IoT Open Training Program
At IoT Open we are proud over our product and how powerful and scalable it is. But we also understand that with a powerful and flexible tool you need knowledge to make the most out of it. Therefore we have developed a training program to easy get you up to speed in understanding and mastering the IoT Open Platform.
---
Available training
You can start your training right now if you want to. There is no obligations to it. All you have to do is to register an account at our Open Lynx server and get going right away.
Training program
Depending on what your role is or how you intend to use IoT Open there is a training path for you. And we keep on adding new information to this depending on what you partners and developers want. Don't hesitate to let us know if you have an idea.
Our current training program is presented in the picture below. Please note that this might change and for partners we can give specific training either in our facilities in Stockholm, on site or via an online meeting.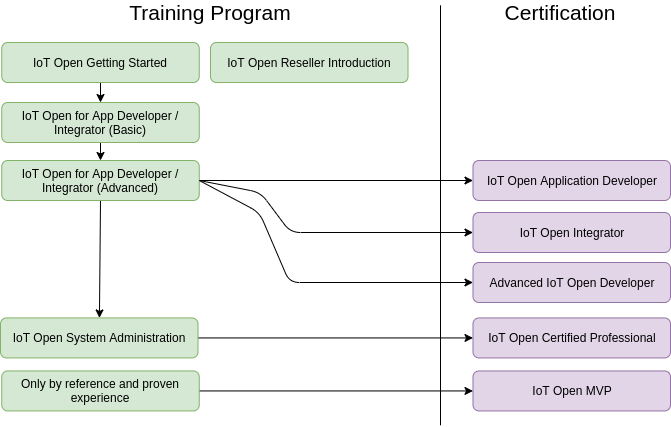 The instructor you will meet is guaranteed to know the IoT Open platform by heart and most likely you will meet someone taking an active part in the development of the platform.
Certification
After some of the courses you can take an exam to become a Certified IoT Open Integrator or Application Developer. If you have lots of knowledge you can also become a IoT Open Certified Professional.
Contact your IoT Open Representative right now or continue reading to find out how to proceed.
Want more?
Not a partner yet?
Great! In our education and partner program there are lots of goodies including online and onsite training. Certification courses and exams and much more. Check out our partner program.
Getting started
Start by registering an account on our Open Lynx or log in to an IoT Open system. The basic course will get you up to speed.